Marine Accident Investigation Branch
Accident Investigation Report 10/2020
Investigation report into marine accident including what happened, actions taken and recommendations: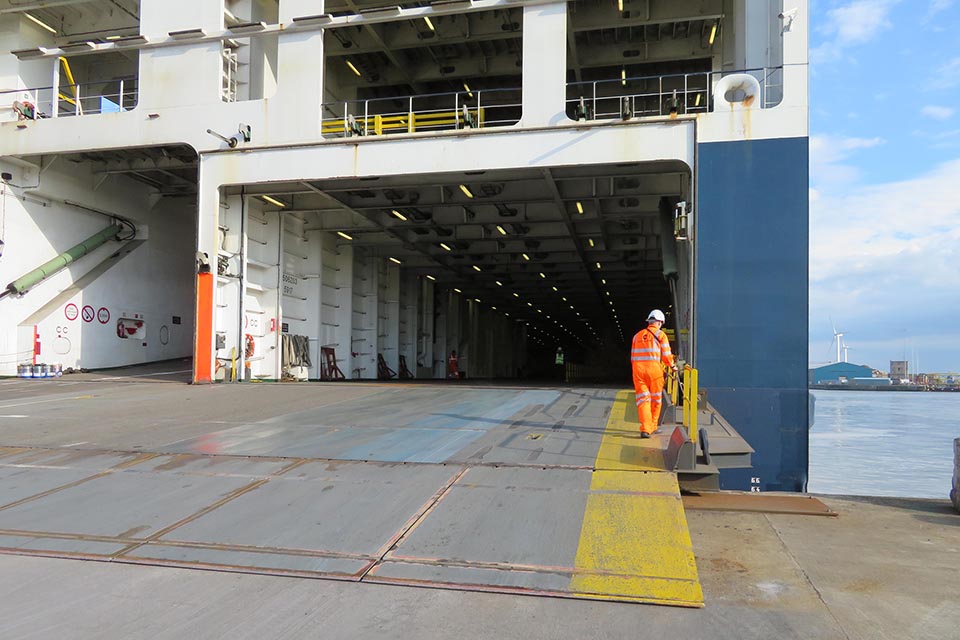 Summary
On 15 May 2019, the third officer was struck and fatally injured by a freight vehicle semi-trailer while standing on the vessels stern ramp. The semi-trailer was being pushed ashore by one of the ports tractor units.
The third officer was facing down the ramp and talking on his mobile telephone when he was struck. He was unaware of the trailer approaching from behind and the tractor units driver was not expecting any pedestrians to be on the stern ramp and could not see the third officer due to the trailer blocking his view ahead.
The tractor unit driver was found to have cannabis in his system, but this was unlikely to have contributed to the accident.
Safety issues
This is one of several similar accidents in recent years where both maritime and land-based industry best practice guidance have not been met: there was no physical barrier on the stern ramp to segregate vehicles and pedestrians and there were no controls in place to monitor the stern ramp and stop vehicles when pedestrians needed to walk across it.

The use of mobile telephones and other communications media is an increasing source of distraction on working decks and in other hazardous workspaces on board ships, for which formal guidance is currently lacking.

This was the second work-related death in 15 months to have occurred on board ferries operated by Seatruck Ferries Ltd and berthed in Liverpool. Although the use of cannabis by the tractor unit driver was not considered to be a contributory factor in this accident, recreational cannabis use can impair judgement and performance. Random testing had not been carried out by the port operator.
Recommendations
A recommendation (2020/123) has been made to Seatruck Ferries Ltd aimed at improving the effectiveness of its procedures, and improving the safety culture of its crews. Recommendations (2020/120 and 2020/121) have also been made to the Maritime and Coastguard Agency, and the Isle of Man Ship Registry to raise the awareness of the potential hazards of mobile telephone use. A recommendation (2020/122) to the UK Chamber of Shipping is intended to promulgate the lessons of this accident to the wider ferry industry.
Statement from the Chief Inspector of Marine Accidents
Related publication
A safety flyer to the shipping industry highlighting a number of the safety lessons was produced for this report.